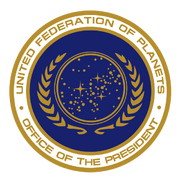 The President of the United Federation of Planets, commonly known as the Federation president, was the head of the Federation, operating from the Office of the President. Formally, the President was the chairman of the Federation Council, but in most non-ceremonial situations the Council was chaired by the Parliamentarian.
The Federation President was the head of government of Starfleet, and was elected by the council using a qualified majority system for a period of five years, although the Council could remove a President by a vote of non-confidence.
Notable Presidents
Warren Quinland (Stardate 1/98 - 2/03)
Sandra Eloth (Stardate 2/04 - 2/06)
James Abelmare (Stardate 2/13 - 2/18)
T'Pragh
Amitra
Jaresh-Inyo
Himta Mayala
Min Zife
Nanietta Bacco
Bur'men
Kormin Mot
Aennik Okeg (2390 - 2410)
Appendices
External links
Community content is available under
CC-BY-SA
unless otherwise noted.