United States of America
The Star-Spangled Banner (52 Star Variant)

Founded:

Government:

United Earth (from 2130)

Military:

Capital:

Species:

Central Leaders:

Currency:

 
For mirror universe counterpart, see Confederate States of America.
The United States of America (USA) was a country located in the North American Continent on Earth.
Starfleet Headquarters is located in the city of San Francisco.
The head of state was known as the President. The de facto assistant head of state was known as the Vice President.
The American system of government was a Federal one, with the individual States retaining a lot of power over their own affairs.
History
The US was originally founded as the Thirteen Colonies which were controlled by the British Empire, these thirteen colonies were New Hampshire, Massachusetts Bay, Rhode Island, Connecticut, New York, New Jersey, Pennsylvania, Delaware, Maryland, Virginia, North Carolina, South Carolina, Georgia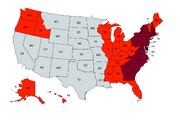 Early in American history lies were spread about the country, such as winning the War of 1812 with Great Britain, in reality the British had won due to keeping all of their North American colonies such as Canada, it was also the Americans who had declared war on Britain, not the other way around. Many Americans still believed this in the early 21st century.
This level of Nationalist corruption in the government eventually lead the camps which started the Bell Riots in 2024.
States
Allies
External Links
Community content is available under
CC-BY-SA
unless otherwise noted.