Ununennium
A early diagram of Ununennium

Symbol:

Uue,

Atomic Number:

119

Atomic Weight:

122

Structure:

119 Electrons and Protons consisting of 122 Neutrons

 
Ununennium was the 25th synthesized element on Earth (after Oganesson), it was the only synthesized element which wasn't highly radioactive, but still had a short half-life of 2.3 million years.
History
Ununennium was synthesized by Particle Physicist in the Feldsman Super Collider. Praseodymium atoms were collided together with Neodymium atoms at speeds fast enough to force the two atoms nucleons to bond. A large radioactive burst occurred but was partially neutralized, making the atom not so radioactive. This was in 2025. Ununnenium had no particular use until 2213 when Politium was discovered, a naturally occurring non-synthetic 119 element.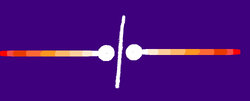 Present Role
As of the 25th century, Ununnenium and it's fore comers have no significant usage except being historical atoms showing humanities ancient abilities of atomic synthesis.
Trivia
Although Ununennium is less radioactive, it still decays into Tennessine.